Favourite Scene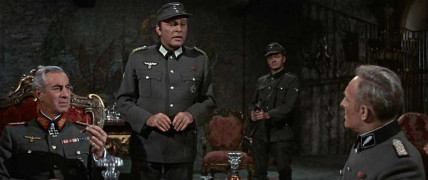 [When he proves, with false evidence, that he is the German Major Johann Schmidt, and that Thomas, Berkeley and Christiansen are Brittish spies. The scene from the Golden Hall is definitely one of the best part of the movie.]
Favourite Line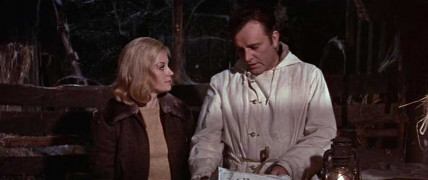 Major John Smith
: You enjoyed your trip?
Mary Ellison
: Horrorly. I nearly froze to death in that damned plane. Why couldn't you supply hot water bottles and an electric heated suit? I thought you loved me.
Major John Smith
: I can't help what you think.
User Comments:
Spidey (2003-12-16)
Favorite line: "We have it. We have it all."
alan giles
(2005-03-04)
Fantastic scene when major smith tells the german officer in the bar/cafe that he his himmlers brother great acting...


Will
(2005-05-31)
Favourite line: Broadsword calling Danny Boy
josephine williams
(2005-06-14)
What was richard burtons callsing? in he movie eagles dare?
Thank you
alan giles
(2005-09-22)
let me wisstle you a tune to hedi, then says meet me the wood shed in five miutes, the slapp she gave him was fantastic, and major smith turns back around at the table and still looks COOL .... top draw acting..!!!!!!
Viggen
(2006-01-25)
In goofs someone says that smith doesn't wear a ribbon for the iron cross 2nd class, but i fact he does look over the iron cross 1st class there's a ribbon.... ANd it is the ribbon for the 1st class.... Although not many officer used those ribbons in germany. And by the way where are the belts on Eastwood and Burton??
Ralph Okotcha
(2006-05-24)
A legend i admired so much as a child at age 9 when i first watch the movie where Eagles dare. He's my role model!
David G
(2006-09-01)
Great film, great character.Smith plays a Gibirgsjager Major-It was great to find that one of my neighbours was exactly that during the war, with higher military decorations than the film character.
He is still alive at 88
Peter Reay
(2006-12-01)
My favourite Smith line is, on having scaled the walls of the castle: "That's the first time I've been warm since I arrived in this bloody country". In fact Burton did not have to climb th walls at all; Eastwood, on the other hand, did!
cappopper
(2006-12-04)
richard burton was "CHEATED" out of an oscar for his performance, which elevated this movie to classic status. he was nominated 7 times and never won an oscar. unfrigginbelievable!!!
laddiebuck (2008-10-01)
Richard Burton the man is also fascinating, deep, and he knew life. See his interview with Parkinson on YouTube. Anyway, favourite line: You must be joking. Over and out.
alex (2009-05-27)
Favourite line? [...If any of you utters a word, I'll kill you all]
Darren (2009-06-18)
Favorite line broadsword calling dannyboy
l.parent (2012-04-27)
I remember seeing the movie at the theater! The title music is one of the best background peices I have ever heard! It gives the feel of mountainess snow covered terrain! there is just an awe inspiring something to it! I plan to build a model of the junker52 aircraft soon! Alltime favorite!
Wayne (2012-06-03)
Trying to work out what regiment John Smith was from - look like Honourable Artillery Company insignia on his lapels but cant be sure
nick (2012-10-06)
Pretty well, No 1 WW2 film for me. Grew up on Alastair MacLean novels. Fave line: a hole is a hole is a hole. Q: are there any German fans of WED?