Favourite Scene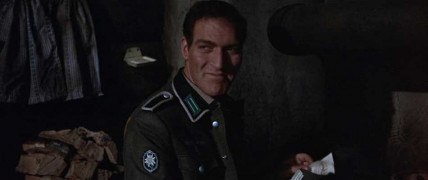 [Smith is on his way out.]
Major John Smith
: Jock! Save me some coffee till I get back.
Jock MacPherson
: It will be cold by then!
Major John Smith
: I say that is an advantage: you can't taste cold coffee.
User Comments:
tom
(2005-03-13)
this fellow is another classic to the movie, and he si a very nice added touch in the character he portrays.....the coffee scene is a classic!
I believe he may hav e acted in that zulu movie concerning something like Rourkes' Drift or something.....he looks familiar but he is definately classic....too ba d he was kille d off early......I don't know much about him but he'd have been a classic leading actor in any good similiar movie...
will (2008-08-01)
I remember Niel Mcarthy from rorkes drift film, the coffee scene was hilarious. Great acting
Darren (2009-06-02)
Yeah Neil McCarthy was in Zulu alongside Stanley baker and Michael caine the foreword spoken by richard burton Another classic film
Sam, Salop (2009-06-12)
Another great believable character, you can just imagine Jock training in the highlands and swimming in lochs and just being a really good guy to have around. In the scene where he is cleaning his sturmgewehr there is huge tension between eastwood and burton but Neil McCarthy still manages to have great presence and plays the understated role to perfection.
Mikael S. (2010-01-23)
I remember him from the TV-serie about CATWIEZEL with Geoffrey Bayldon. He played a sort of farmhand.