Favourite Scene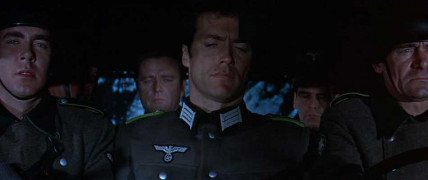 [Smith and Schaffer are prisoners and are transported in a car.]
[Smith and Schaffer got eyecontact in the rearview.]
[Schaffer bends down to his shoes.]
German Soldier
: Halt!
Lieutenant Morris Schaffer
: It's just my shoelaces.
[Schaffer pushes the soldier out threw the door.]
[Schaffer shots the driver.]
[The car goes into a skid and collides with a stone.]
[Weissner dashes ou threw the frontwindow.]
[Only Smith and Schaffer survives the collision.]
User Comments:
Mikael S. (2010-01-23)
He looks like a young John Hannah.