Favourite Line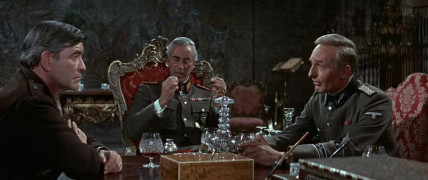 Colonel Paul Kramer
: What do you take us for? You will also of course be reporting the unfortunate demise of major Smith.
Olaf Christiansen
: Is he... dead?
Colonel Paul Kramer
: We are not quite sure. It's being looked into right now.
Reichmarshal Julius Rosemeyer
: Please, remember the important issue.
Colonel Paul Kramer
: Yes, I think the situation has changed officially for you to give us the imformation we've been asking for.
General George Carnaby
: Nothing's changed, Colonel.
Colonel Paul Kramer
: Most unfortunate...
User Comments:
cappopper
(2006-12-04)
although he is not granted deserved respect in the movie, actually to voluntarily become a POW in a fortress, and trust rescue, takes more balls than any other role in WED. think about it!
laddiebuck (2008-10-01)
Although it does take the most balls to accept that mission, I think Smith outdoes it when he goes on despite all the odds against him (with my favourite line: \"You must be joking. Over and out.\").