Favourite Scene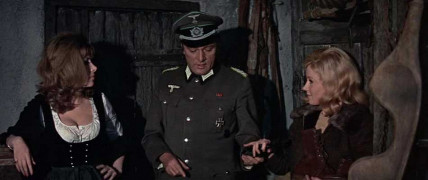 [Heidi steps into the stable.]
Major John Smith
: Ahh, well, here we are. Mary, now Maria, this is your cousin Heidi.
[Smith gives Mary a gun.]
Major John Smith
: You better leave this behind in case you are searched. Heidi will tell you what to do from now on. She's been one of our top agents in Bavaria since 1941 and...
[Smith looks down on Heidi's low neck.]
Major John Smith
: ...what a disguise!
Favourite Line
[At Zum Wilden Hirsch.]
Heidi Schmidt
: Anything else needed here?
Major John Smith
: And who might you be, my pretty alpine rose?
Heidi Schmidt
: Heidi. Stop, Major I've got work to do.
Major John Smith
: There is no more important work than entertaining the soldiers! Shall I sing you a song?
Heidi Schmidt
: I hear too much singing.
Major John Smith
: Oh, very well then I'll whistle it. Goes like this.
[Smith starts whisteling the German folksong "Lorelei". Heidi laughs when she recognizes it.]
Heidi Schmidt
: I bet you have a bee-yootiful singing voice, too!
User Comments:
alan giles
(2005-01-22)
ingrid looks as beautiul today as she does in where eagles dare.. please send me as much information on this fantastic acctress as possible, more so how did she get sueh a beautiful nsme...? X
David (2005-06-14)
You can learn all about Ingrid Pitt at http://www.pittofhorror.com/.

Ingrid Pitt will be making an appearance 22 July at the Dracula Festival in Dublin.
alan giles
(2005-09-22)
02.41am.. 22 september 05... just logged on and wanted to say thank you to david for the address about ingrid pitt, just about to go and have a look so thanks mate, cheers alan, manchester uk.......
cappopper
(2006-12-04)
i believe mary felt threatened somewhat by ingrid during the filming. although a smaller billing and part, it was heidi that stole the hearts & soul of men enjoying WED from the enchantingly beautiful mary.
boobs (2010-05-31)
they are nice
Tim (2010-11-25)
Saddened to hear Ingrid had died while visiting the UK 23-11-10.
Soren Bailey (2010-12-03)
RIP Ingrid Pitt
joey (2011-01-14)
Ingrid Pitt...not a more beautiful, classy, elegant woman in the world exists or ever will exist.
SAM HAWKINS (2012-03-24)
I LOVE INGRID PITT . She will always be BEAUTIFUL and GORGEOUS GODESS TO ME . I LOVE YOU INGRID YOUR BIG FAN SR HAWKINS [USA]
rob 590 (2013-09-03)
brilliant actress and beautiful too, far superior acting skills to the wooden mary...:)